Funny thing: one of my good friends' sister is apparently the Director of Education over at the Contemporary Jewish Museum and I never even knew it! To be fair, she also didn't know what I do because every time we see each other at parties, we would just talk about food and cooking – another shared interest of ours. 🙂
So when she found out what I do for a living, she graciously invited me to host a session on making in education at the Jewish Educational Technology Institute. And as a bunch of us maker lab directors like to say, one should never just tell people about making but make sure they experience it for themselves. To keep things simple, fun, and crafty, I decided to do a workshop on paper circuits especially since the attendees were mostly humanities teachers and I think paper circuits have great potential to integrate into the humanities.
The crew at CJM was so awesome and ordered all the supplies we needed the week before (while I was away at CMK 2014). They also dug up a whole bunch of craft materials from their stock room to ensure maximum making fun!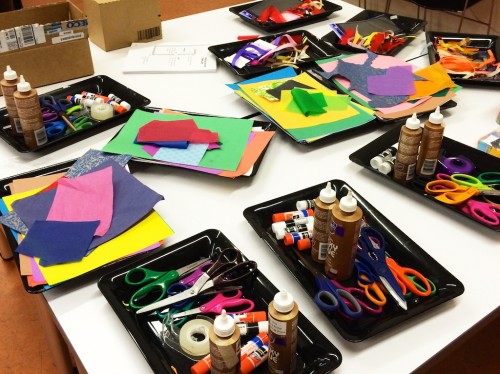 For the first timers, I suggested that they start with the simple circuit template from Jie Qi's Circuit Stickers Sketchbook. From there, they could try making a circuit with a switch or even more complex circuits.