Yup, I'm pretty much obsessed with paper circuits lately, so here they are making yet another appearance!
For the past two days, I've been over at Lighthouse Community Charter School's Creativity Lab helping out with some professional development workshops they're running. When Aaron and I were brainstorming how to structure the day, one of the things he really wanted was to kick off the morning with some active making. I mentioned that at the Making Possibilities workshop a while back, I saw a really cool adaption of paper circuits where everyone collaborated on a mural. When he presented this to his team back at LCCS, they liked the idea and immediately work on making the mural base for it.
After breakfast on day 1, we asked participants to create pieces to add to the mural. The activity became both an ice-breaker and the mural itself became like a "water fountain" as people gathered around to chat about electricity or what not. The funniest moments were when someone accidentally shorted the mural, turning everyone's lights off, and the whole group would all gasp!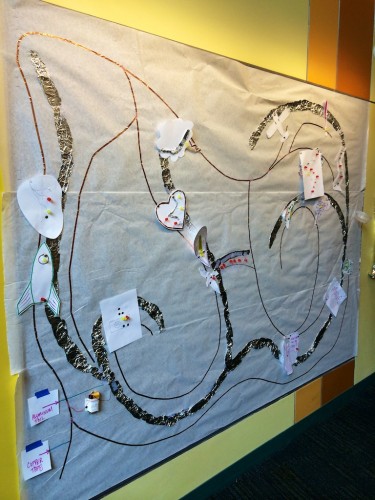 And here's my little contribution to the mural. I know I know, I wasn't feeling super crafty that morning so I just turned to an old favorite. 😉