One of my absolute favorite making projects is paper circuits. They  are cheap, simple, don't require any fancy equipment or supplies, and easily adaptable to all sorts of contexts and interests. Once people get the gist of how to make a simple paper circuit, there are many directions they can go: make more complicated circuitry, create interactive stories or posters, incorporate paper circuits into origami or sculptures, etc. The possibilities are nearly endless!
A very basic activity is to make a light-up greeting card or to "bling" out a notebook with a paper circuit on the cover. And Jie Qi, a former(?) grad student at MIT Media Lab's High Low Tech group, who has done a bunch of work on paper circuits, has recently released a fun Circuit Stickers kit based on the ideas of paper circuitry. While Circuit Stickers are likely not feasible in a classroom setting, they would be fun to buy as toys for kids to play with at home.
Jie also is the one who created the most incredible and lovely interactive painting using paper circuits.
Interactive Light Painting: Pu Gong Ying Tu (Dandelion Painting) from Jie Qi on Vimeo.
At a conference recently, I saw a fabulous application of paper circuits from the folks at the Exploratory where everyone collaborated on a paper circuit mural. The main difference here is that someone preps a large surface ahead of time with a positive rail and a negative rail (hint: use copper tape for one and aluminum foil for the other to easily tell them apart), hooks them up to battery pack(s) for power, and then gives everyone the materials to create paper circuit pieces to add to the mural. Pieces can be attached using pushpins or magnets, depending on what the backing of the mural is.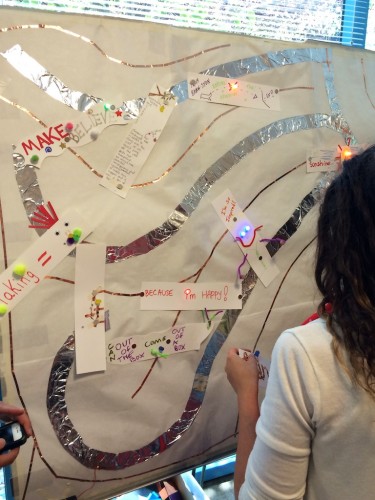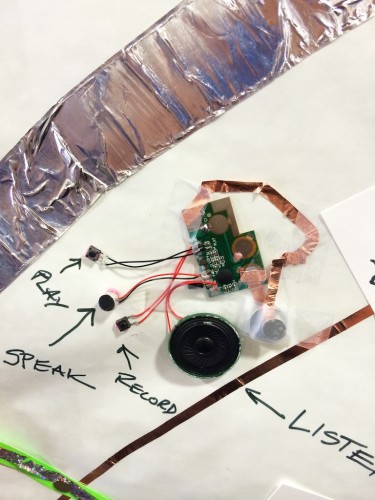 Useful links:
Tips & tricks:
Any 3V coin cell batteries will work. I usually buy CR2032 because I can use them for other things too and I like that they're pretty flat.
For the most part, I use regular two-legged LEDs but I have since learned about using surface mount LEDs for tiny lights that lay flatter on the page or LEDs with axial leads for easier wiring.
Copper tape can be bought from hardware stores as snail tape or EMI shielding tape from electronics stores. Tinkering Studio has some tips on which brands are best.
Instead of taping down the leg of an LED onto the paper, first lay down a piece of copper tape. Put the leg on top and then tape that down with another smaller piece of copper tape. This will ensure that the metallic leg of the LED has good contact with the shiny, more-conductive side of the copper tape.
As much as possible, avoid creating circuit paths with multiple pieces of tape and instead, turn corners with one piece of tape. This will ensure good current flow.
Stuff to buy: